Wood Burning Stoves
You can't miss our colorfully marked trucks as they travel on their way to install Wood Burning Stoves for customers in the Milwaukee area including towns like Lake Geneva WI, Elkhorn WI, Port Washington WI, Caledonia WI, Mt Pleasant WI, and Brookfield WI.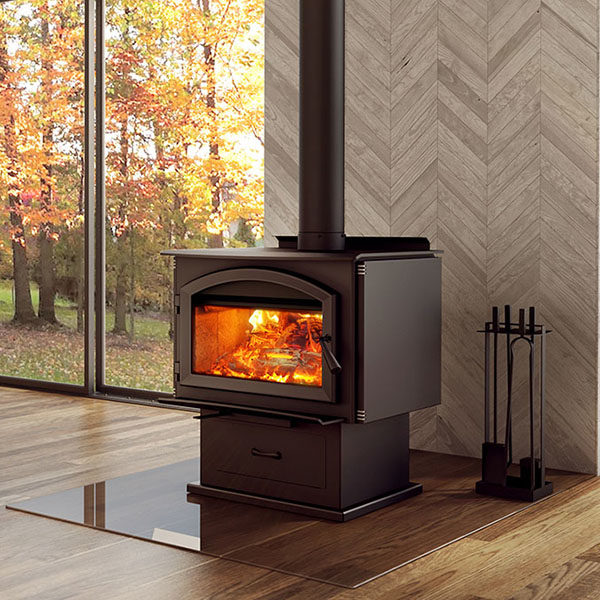 Wood stoves today are a far cry from the ones our grandparents had. New models are all E.P.A. certified wood burning stoves with modern designs and styling. Wood burning stoves are popular due to their versatility and fantastic heat performance. Burlington Fireplace has many to choose from such as Enerzone or Lopi with an unbeatable warranty. We have models available to fit every need from top and front-loading models to models with a capacity of 3.5 cubic feet and over 100,000 BTU's of heat output. To put it simply, there are stoves of all shapes, sizes and capacities.
Not only do these free-standing stoves create wonderful radiant heat, they also meet strict environmental standards making them a highly efficient means to heat a home. With a number of different sizes available, you can effectively heat an entire room or even your whole house up to 3,500 square feet. Your wood burning stove will quickly be the focal point of the room and the favorite spot of your family and friends. Stop by Burlington Fireplace & Heating to view a wide range of wood burning stoves and find the perfect appliance for your needs.
Residents in Southeastern Wisconsin can make the quick drive to Burlington Fireplace & Heating to view over 30 beautiful burning displays. Here you can speak with our hearth and heating experts to find the perfect stove, insert, or fireplace for your home and lifestyle.
There's a reason wood burning stoves are so popular among homeowners. Their modern designs, low emissions, high-efficiency, and effectiveness at heating an entire house have made them a valuable addition to any home. Whether you want to zone-heat your most active rooms or heat the entire house, there is a wood burning stove model that will meet your requirements.
Many of the wood burning stoves available today have a re-burn system that uses secondary air tubes. These stainless steel tubes are located at the top of the stove firebox and bring in secondary combustion air to mix with the smoke from the fire. In turn, this extremely hot air burns the smoke away before it exits through the chimney. Because this process is done automatically, it is extremely convenient for the homeowner and requires very little maintenance.
Depending on your taste and home décor, you can find wood burning stove models that are made from steel, cast iron, or soapstone. Each style has its own advantages. While steel stoves heat up quickly, they tend to cool down much faster than other types. A soapstone stove will store more heat than any of the other materials, but it also takes longer to heat up. Soapstone is able to provide a steady and consistent heat source, even after the fire has died out making it a worthwhile choice. Since soapstone is a natural material and subject to different properties and veining, no two soapstone stoves are identical to each other. Each stove is a masterpiece in itself. Cast iron wood burning stoves have been the most traditional option for over two hundred years since the iron can be poured into a number of different and interesting shapes and textures. Speak with our knowledgeable staff to find out what stove type will fit best with your needs or choose from our other wood-burning units.