Bring Your Kitchen Outdoors!
We Custom Build and Install Outdoor Kitchens with Built-In Grills, Refrigerators, Sinks & More across the area in Kenosha WI, Waterford WI, Antioch IL, Richmond IL, Lake Geneva WI, Mt. Pleasant WI, Paddock Lake WI, Elkhorn WI, Burlington WI, Racine WI, East Troy WI and the entire SE Wisconsin & NE Illinois area.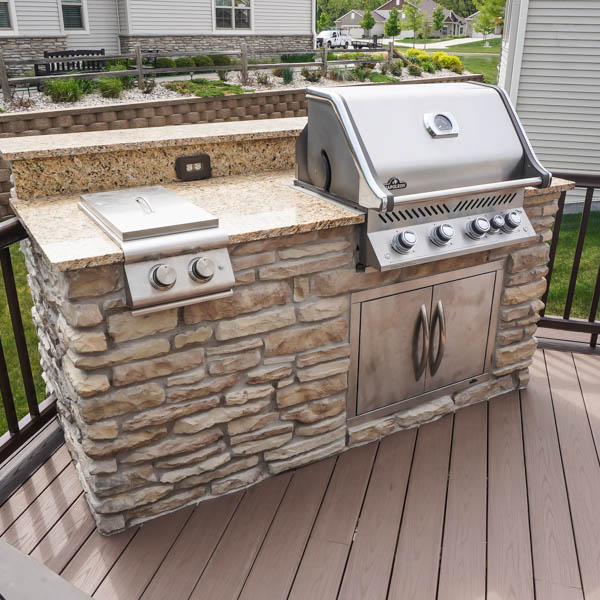 Our staff can help you design the perfect outdoor cooking area that will compliment your home and lifestyle. At Burlington Fireplace & Solar we are known for our Outdoor Living fire features, fire pits and outdoor fireplaces – so it is only natural that you can count on us to "Bring Your Kitchen Outside."
Utilizing top brands of professional grills like Napoleon we are able to put together just the appliances that you want along with counter space and utilities to make cooking and entertaining outdoors easy. Today's high tech grilling can include things like zoned temperature control, digital meat thermometers, rotisseries, smokers and many other features. We can help you decide on the outdoor grill that will perfectly suit your needs and cooking style.
Your new outdoor kitchen will be the place where friends and family will gather to enjoy special times throughout much of the year. We know several clients that actually cook year-round on their built-in outdoor BBQ grills!
Custom designed to include your grill choice plus sink, refrigerator, outlets, cutting area, cabinets, storage, drawers and whatever other accessories that you desire. The facing and counter areas the places where you can finish off the look to fit your tastes. The finishing can compliment your homes decor using siding, stone, veneer, stucco or brick treatment to create the final look of your outdoor kitchen area.
We have NFI certified technicians that can add or connect your gas or propane fueled grill or fire feature. Electrical, plumbing and gas hook ups are all included in our projects. All permitting that is required will be obtained by our staff prior to any construction. We have the experience and the products to help you expand your home into a whole new outdoor living space.
Once your outdoor kitchen is designed we will order the components, build the cabinet and prepare the site at your home. The actual construction at your home will not impact your lifestyle and will be scheduled at the most convenient time for you. The installation itself will only take a few days and before you know it your friends and family will be enjoying a new favorite spot at your home.
While you are improving the outdoors, please consider adding one of our fire features or a fire pit to enhance the outdoor living experience. Custom built fire pits or prefabricated fire table are a great addition to any outdoor kitchen area. Some of our customers opt for a full blown outdoor fireplace as the centerpiece of their outdoor entertaining area. Furnishing complete the landscape offering a place to relax and enjoy the warmth and ambiance of the outdoor space.
Call us soon at 261-763-3522 to set up an on-site or showroom consultation and start making your outdoor kitchen area a reality!