Gas Burning Fireplaces
Gas Fireplace installations in Southeast Wisconsin area including Racine, Burlington, Waukesha, Milwaukee to Fort Atkinson, West Bend to Lake Geneva, and west to Janesville.
If you enjoy the cozy feel and warm atmosphere a fire provides but don't want to commit the time and leg work it takes to maintain a wood burning fireplace, then you should consider a gas fireplace. A gas fireplace gives the heat and flickering flames of a real fire without the chopping, splitting, and stacking that is required with a real wood fireplace.
With the flick of a switch or push of a button your fire will come to life in a matter of seconds. Homeowners can even select multi-function remote controls for ultimate convenience.
We feature a unique Gas Fireplace, the Intrigue Gas Direct-Vent Fireplace by Ambiance is a one-of-a-kind unit. Built for beauty while still kicking out 39,500 BTUs of heat, the Intrigue is exclusively available to members of North America's largest buying group, of which we are members.
Nowhere else can the Intrigue be found, and nowhere else can the value and warranty be matched on similar products. This unit was actually designed by over 100 hearth store owners working with the manufacturer to develop this popular gas fireplace unit for our customers.
Many homeowners create the fireplace of their dreams by choosing one of our Gas Direct Vent units. They are more versatile with venting options and can fit in most applications. Gas Fireplaces offer many finishing options to create just the look you want, with just the right amount of heat where you want it. Gas fireplaces are clean, safe and require low maintenance with the convenient touch of a button.These gas fueled appliances provide a clean and efficient fire with little upkeep, making them a valuable addition to any home. With a number of different options and customizations available like accent lights, thermostatic & remote controls, and arched fronts, homeowners can personalize their fireplace to match their home décor and lifestyle.
Endless Amount Of Gas Fireplace Styles
The number of styles and customizations that a gas fireplace offers are seemingly endless. To get a good idea of the full capacity of features you can choose from, stop by our showroom and talk to one of our expert fireplace staff. Located in Burlington, WI, we are only a short drive from Milwaukee, Racine, Janesville, Waukesha, and Kenosha. We have a full showroom appointed with a number of different, yet equally beautiful burning displays that will help even the most indecisive of customers feel inspired. Our fireplace experts are here to answer any questions and are eagerly awaiting your arrival.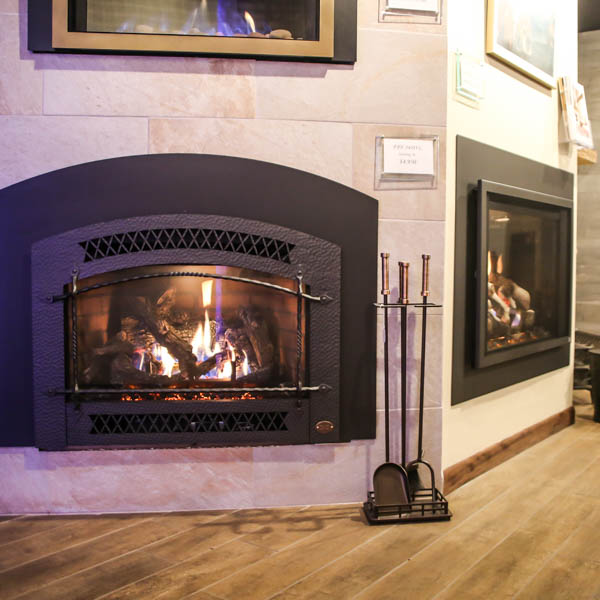 When the cold weather rolls around, many homeowners dread receiving their heating bill. If you fall into this category, why spend the money to heat your entire home all winter long when you can use a gas fireplace to zone-heat the rooms you use the most?
Because these gas fueled appliances are easily controlled, never need fuel added to them, and come in a number of styles and size, they make the perfect addition to a living or family room, a bedroom, a kitchen, or even a bathroom. Save money during the cold winter months by utilizing your gas fireplaces to zone-heat the busiest rooms in the house.
Gas fireplaces also offer a number of different features that can be controlled right from the multi-function remote. Fan speed, flame height, heat output, accent lights, and the pilot light can all be customized conveniently with the push of a button on your remote from anywhere in the room. Want to see these spectacular features in action? Stop by our showroom at Burlington Fireplace & Heating to test out a number of different options first hand.
Zero-Clearance Direct Vent Gas Fireplaces
Tight on space? That's not a problem! We have zero-clearance direct vented gas fireplaces that can be built into a frame wall. These models come in a number of different sizes to fit in even small areas, and are designed to install quickly and easily without any major modifications. Zero-clearance gas fireplaces feature a number of different venting configurations so you can chose the one that is the most practical for your home and space.
These highly efficient, safe, and feature-laden gas appliances come with decorative fronts in nickel, copper, brass, and with or without screen doors so you can create that perfect look for your lifestyle. Also look for models that contain standing or intermittent pilot lights, thermocouples, oxygen depletion, and heat and flame sensors to help you maintain safe and reliable performance. Whether you want a modern, elegant, rustic, or traditional gas fireplace, stop by Burlington Fireplace & Heating to view all of your options.