Stoves
We install and services Stoves in Southeast Wisconsin including towns like Milwaukee, Port Washington WI, Janesville WI, Beloit WI, Burlington WI, West Allis WI, and Greenfield WI.
There is nothing old-fashioned about the stove models and styles offered in today's day and age. Stoves now feature modern capabilities, premium technology, and beautiful design. You can even choose the type of fuel your stove runs on, whether it's wood, gas, pellet, or electric. No matter what type of free standing stove and fuel you choose, there are a number of universal benefits homeowners can enjoy. A stove can be installed in almost any room in your home since they come in all shapes and sizes.
Tired of paying huge heating bills? Stoves are ideal for zone heating so you can focus on heating only the rooms you use the most. These highly efficient heating appliances are extremely effective and can fit into any home décor with traditional, contemporary, or rustic styling.
Not only are stoves energy efficient, they are extremely easy to use. Gas and pellet model stoves can be operated with either a thermostat or remote control. Some wood burning models even feature an electric start and are EPA certified. Burlington Fireplace & Heating offers classic wood burning stoves, modern gas stoves, and efficient pellet-fueled models with dozens of options and features so you can easily find a stove that will suit your needs. Speak with any of our experienced staff to get all of the up-to-date information regarding stove models and styles.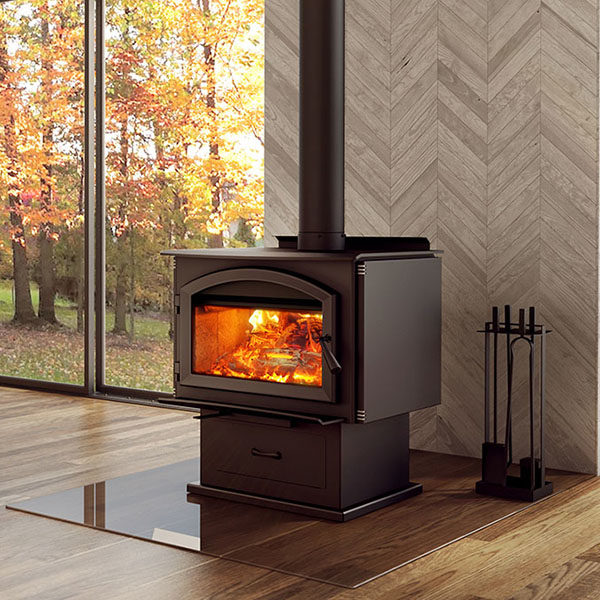 Wood Burning Stoves
One of the most popular stove choices for homeowners is the wood burning models. Today's modern wood burning stoves must meet or exceed the Environmental Protection Agency's emission requirements. These high-efficiency and environmentally friendly appliances use a re-burn system which is designed directly into the unit. Catalytic wood burning stoves use a catalytic combustor re-burn system which achieves extremely high temperatures causing most of the smoke from the fire to be burned as it is routed through the combustor. Non-catalytic wood burning stoves feature a re-burn system that uses secondary burn tubes to diminish the smoke output. While the non-catalytic stoves are automatic, the catalytic stoves have a damper which must be engaged to re-route the smoke through the combustor.
No matter which re-burn system you choose, both types will have long burn times and radiate heat efficiently throughout your house. Homeowners can enjoy the beauty of a burning fire through the self-cleaning glass doors while the wood burning stove works to heat the whole house or just the busiest rooms. There are tons of different styles, sizes, and models that you can choose from. Steel, cast iron, and soapstone stoves are all popular options, along with front loading, side loading, or top loading units. Don't feel like spending a lot of time and leg work getting your fire started? Choose a wood burning stove that features an electric start option which will have a fire going in minutes.
Gas Burning Stoves
Gas burning stoves and appliances appeal to many homeowners due to their convenience and ease of maintenance. The number of high tech features a gas burning stove offers is astounding. Control fan speed, flame height, heat output, and accent lighting with a press of a button on the remote control from anywhere in the room. Choose from traditional, rustic, and contemporary styles in steel, stone, or cast iron. Gas burning stoves come in a number of different sizes and venting options so you can install them in almost any room in your home.
The venting system for a direct vented gas stove can be installed through the side-wall of your home or up through the roof if you are positioning the stove on an interior wall. There are also "b-vented" appliances that use room air for combustion. These conveniences are what make gas burning stoves such a popular choice among homeowners. Visit Burlington Heating & Fireplace to find out more about the different models and options so we can find out which will work best for your home and lifestyle.
Pellet Burning Stoves
If you are looking for a renewable, clean-burning, and cost efficient heating alternative, consider getting a pellet burning stove. Pellet stoves have similarities to both gas and wood burning stoves because they effectively heat full rooms to entire houses, yet pellet stoves are very eco-friendly. Pellets are made of recycled, condensed wood scraps and sawdust and burn hotter and cleaner than cordwood since most of the moisture from the wood has been removed during the manufacturing process.
The amount of heat a pellet stove produces depends on how fast you feed the pellets through the stove. A burn rate of 4 pounds per hour produces about 32,000 BTU's and will give you significantly more heat than 1 pound per hour which only produces about 8,100 BTU's. Pellet stoves are also convenient because they do not need a chimney. Instead, a vent pipe can be installed through the side-wall of your home or up through the roof if you are positioning the stove on an interior wall. Want to know more? Stop by our showroom and ask about our selection of pellet stoves.