Homeowners in Waukesha WI and the surrounding areas can trust in Burlington Fireplace & Solar for the best selection of fireplace, stove, and fireplaces inserts plus expert installation and even solar energy systems.
Visit the fully-stocked showroom of Burlington Fireplace & Heating to view our vast selection of wood fireplaces, gas fireplaces, pellet fireplace inserts, wood burning inserts, gas fireplace inserts, free standing wood stoves and outdoor fireplaces & fire pits. We have hearth, heating, and solar experts on hand that will also travel to you to discuss your project and make suggestions.
Burlington Fireplace and Solar proudly serves the historic city of Waukesha, WI. Originally known as Prairie Village, it has a storied history that continues to be told as you stroll through its charming downtown European style village. Situated along the Fox River, Waukesha is easy to navigate. You will often find our bright white and red trucks travelling around the area's highways including I-94, US 18 and SR 59 that connects to nearby communities including Buena Vista, Elm Grove, Minooka Park, Pewaukee, and Saylesville.
Visit Our Showroom
The fireplace is the centerpiece of many homes in Southeastern Wisconsin and our selection of handsome wood and gas fireplaces, in both contemporary and traditional designs, provide a warm and inviting atmosphere while keeping heating costs low. Wood fireplaces have always been a favorite among those craving a traditional fire-burning experience as the fresh scent of pine, oak or hickory and the crackling flames soothes the soul. For homeowners that want the benefits of a fireplace without the work are converting to gas. Gas fireplaces provide instant heat with an authentic flame experience at the flip of a switch, burn cleaner and are easier to maintain.
Our wide selection of EPA-certified fireplace inserts is a modern twist on an old-world tradition and are among the most energy-efficient alternative heating solutions. Fireplace inserts look and act like traditional fireplaces but are inserted directly into a frame such as an existing fireplace or even a piece of furniture. Many homeowners are installing wood, gas, electric and pellet fireplace inserts instead of re-building a traditional fireplace. Available in both vented and vent-free models, fireplace inserts can even be installed in homes, condos and apartments that do not have an existing fireplace or chimney. Some fireplace insert models can also be used as an oven for making pizza, baking bread or toasting marshmallows, for instance. Browse our showroom to see the complete line of our awe-inspiring fireplace inserts.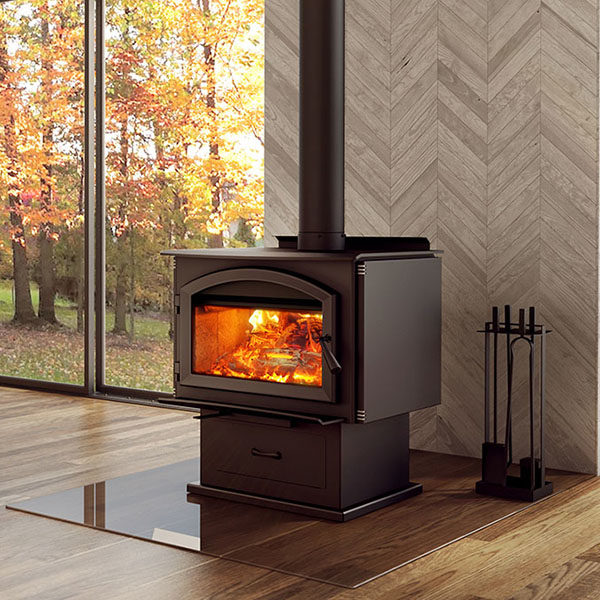 Wood stoves are making a comeback, but these exciting modern masterpieces are not the stereotypical stingy and smoky stoves of the past. These wood, gas and pellet-burning stoves have been re-designed into energy efficient heating appliances that are a perfect fit for spaces too small for a fireplace. It's also an affordable zone heating solution to warm an occupied room rather than wasting energy to heat empty spaces. Our stoves are available in appealing contemporary, traditional and modern styles in steel, soapstone and iron that will complement the décor of any home. You can even adjust the thermostat and operate the stove via remote control making it as simple to use as a television.
Burlington Fireplace and Solar provides complete installation services for fireplaces, inserts and wood, gas and pellet-burning stoves. Our experienced technicians are certified by the National Fireplace Institute (NFI) and can help you choose or customize a heating solution that best suits your tastes and budget. Visit our showroom or call (262) 763-3522 to speak with one of our residential heating specialists today!
Southeast Wisconsin's Favorite Fireplace, Stove & Solar Energy Store
Serving Waukesha WI 53072