In Oak Creek, WI, homeowners trust Burlington Fireplace & Solar for the largest selection of fireplaces, stoves, inserts, and even outdoor kitchens with outstanding professional installation.
We serve surrounding towns throughout Southeast WI and Northeast IL, including Muskego, Franklin, Greendale, Greenfield, Union Church, Kneeland, Caledonia, and New Berlin.
Homeowners from Oak Creek and Caledonia to Muskego and New Berlin and all points throughout Southeast Wisconsin and Northeast Illinois, visit Burlington Fireplace & Solar for the best selection of top-quality gas fireplaces, gas stoves, pellet stoves, wood stoves, wood-burning fireplaces, and fireplace inserts and outdoor kitchens from the brands consumers know and trust the most. Whether you want a traditional, custom, or pre-fab fireplace, a free-standing heating stove, or an impressive outdoor kitchen, our experienced and professional specialists will help you choose the home heating and outdoor appliances for your lifestyle.
Custom Outdoor Kitchens
With top-quality brands and professional built-in cooktops, bbq grills, smokers, rotisseries, cabinetry, sinks, outdoor fireplaces, and other exciting appliances, we can build a custom outdoor kitchen for the ultimate outdoor cooking and entertainment experience.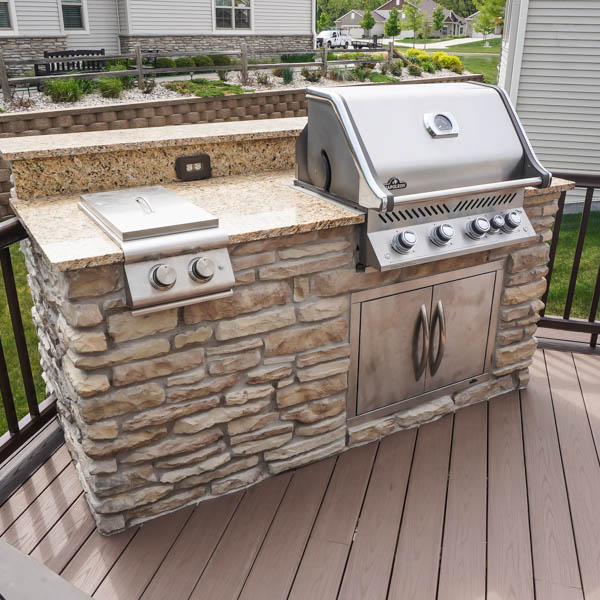 We carry the latest outdoor appliances with high-tech features like zone temperature control and digital meat thermometers so you can cook like a pro while having fun entertaining family and friends. Our experienced NFI-certified technicians take care of the entire installation process, including gas connections, electrical, plumbing, and permitting.
Visit Our Awe-Inspiring Fireplace Showroom
When you make the pleasant journey from Oak Creek to the Burlington Fireplace & Solar Showroom, you will be inspired by the more than thirty displays of fireplaces, wood stoves, outdoor kitchens, and accessories for your home heating and outdoor entertainment needs. We feature pre-fab and custom-built indoor and outdoor gas and wood-burning fireplaces, heating stoves, grills, and more, all under one roof. While you're here, be sure to try the Travis Firebuilder to build your own fireplace! We have pellet fireplaces and electric fireplaces too. Our friendly and knowledgeable staff are happy to answer any questions you may have.
Chimney & Fireplace Service Department
Our certified chimney technicians provide professional installation, service, and repair for fireplaces, inserts, and heating stoves in Oak Creek WI, Muskego, New Berlin, and throughout Southeastern Wisconsin and Northeast Illinois. Contact Burlington Fireplace & Solar to schedule chimney inspections, chimney repairs, chimney liner replacement, and other chimney and fireplace services.
Burlington Fireplace & Solar has been Southeast Wisconsin's most-trusted hearth store since 1995. For more than thirty years, we have provided residents in Oak Creek and surrounding towns with top-quality heating appliances from leading manufacturers with professional and reliable service at competitive prices.